Develop your Chess skills and become the Chess Champion to win real prizes!!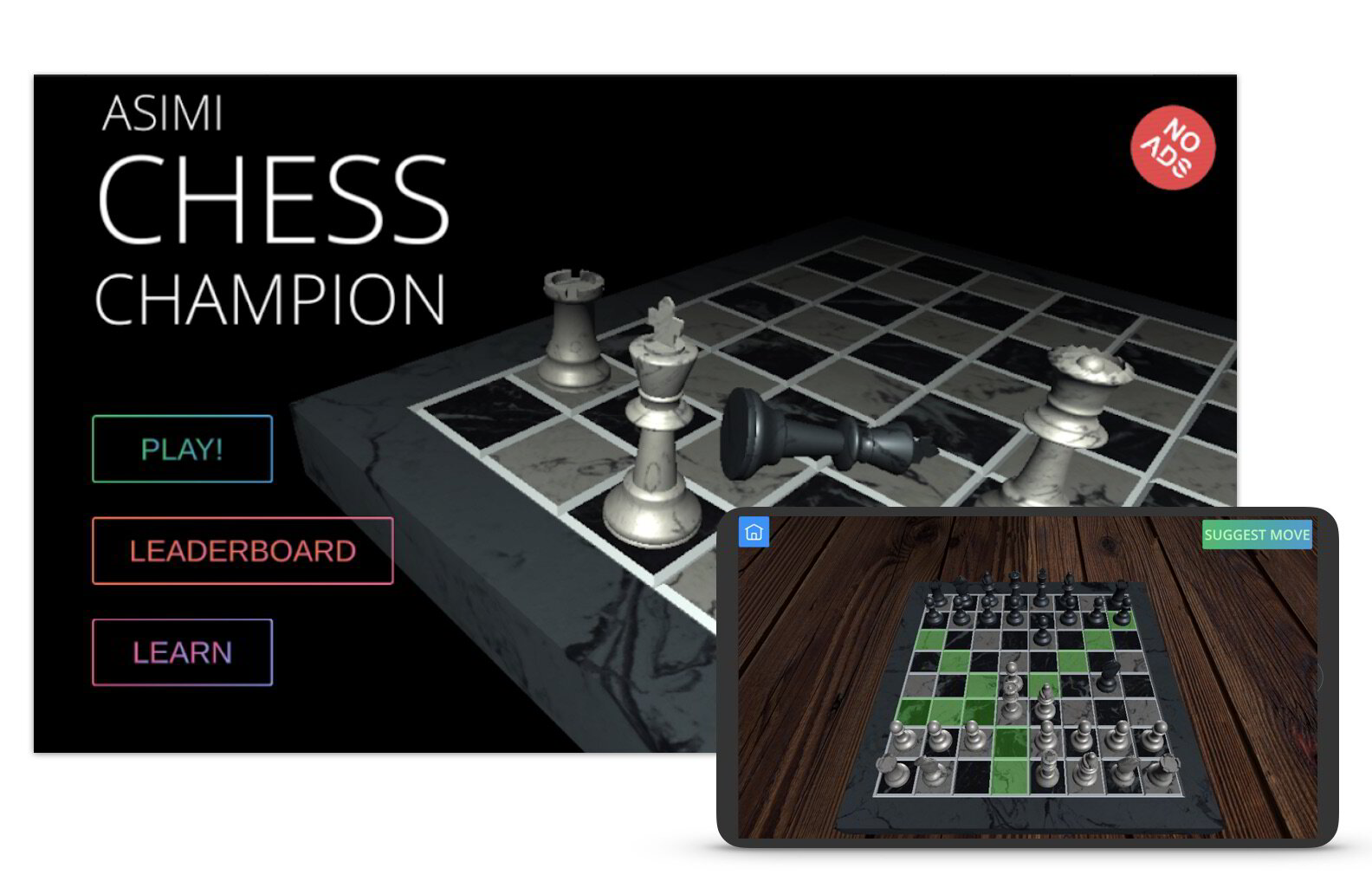 Imagine playing Chess, gaining skills, and winning prizes!
That is exactly what you can do by playing Asimi Chess Champion. Asimi Chess Champion awards prizes to the top Chess players each month! You can track your progress on the Chess leaderboards and win real Asimi prizes just for having fun playing Chess!
The Asimi Play state-of-the-art Chess AI will force you to push your knowledge to the limits while also learning new moves with helpful "Suggest Move" hints that will teach you by example and ultimately help you win, plus let you impress and beat your friends the next time you play with them!

You may already know that Chess is excellent for the mind, powerful for life's lessons, and is much more than just a game. Studies have shown that playing Chess can increase your IQ, keep your brain active, and improve academic and social skills.
Asimi Play Chess Champion offers the following:
- A free, fun, and challenging game
- You can play chess offline
- You can win monthly prizes
- You can choose to play black or white
- A way to increase your chess skills
- Develop your skills and learn to beat the AI
- There are unlimited games
- Reach the leaderboard and track your progress
- Play easy, medium, and hard levels
- You can play in 3D or 2D
- Offers helpful next move hints
- A Multiplayer option coming in version 2
The first Asimi Play game "Word Solve Active Brain Game" was a big hit, with players receiving 15,000 Asimi!
Take a look at the Asimi Play platform and games here.
Get started now and win Asimi by playing chess!
The first draw for prizes will be at the end of May so get started playing now by downloading the app from Google Play here
You can choose from three categories Easy, Medium, and Hard.
All 3 categories will win.
Each month the top 10 positions on the monthly leaderboard will Win Asimi Token Prizes.
If you are in one of the top 10 positions in any category at the end of the month, you win!
Asimi prize values will vary based on app revenue and will be published as the time gets closer to the draw each month.
(No less than 100 Tokens will be awarded per position)
Go to the Asimi Play Chess Champion platform now for more exciting information here,
Why play games with ASIMIPLAY?
Millions of people around the globe are searching for ways to earn income from home. We see this as a significant issue that most people face and is precisely why we built AsimiPlay. AsimiPlay is designed as a needed solution to bring revenue to the hands of millions by creating fun, enjoyable, and challenging games that anyone can play while also earning cryptocurrency. If you have ever wanted to find something simple that you can do to earn BITCOIN or other tokens such as ASIMI tokens, then this is exactly what you are looking for. It is absolutely free to download and play games with AsimiPlay and earn Crypto for free. The more you play, the more cryptocurrency you can earn, and the more chances you have to win.
AsimiPlay was developed for Asimi as just one more way to earn crypto for completing tasks with this diverse business.
Established in late 2018, Hashing Ad Space set out to build an ecosystem that offered simple, free income generation for members. All of this surrounding one of the most valuable products Online Advertising.
Since then, Hashing Ad Space has grown rapidly reaching the top 8,000 most visited websites worldwide, approaching 1 Billion ad views delivered, millions of tokens earned, and is on a mission to help 1,000,000 members from around the globe.
As this was accomplished, they have done so while simultaneously providing effective advertising. Businesses use Hashing Ad Space advertising to promote their offers, products, and websites to the pre-build audience and at the same time offer reliable daily income for the members by completing simple tasks.
Learn how you can get started with Hashing Ad Space to maximize your business success Here


Read more Hashing Ad Space articles here