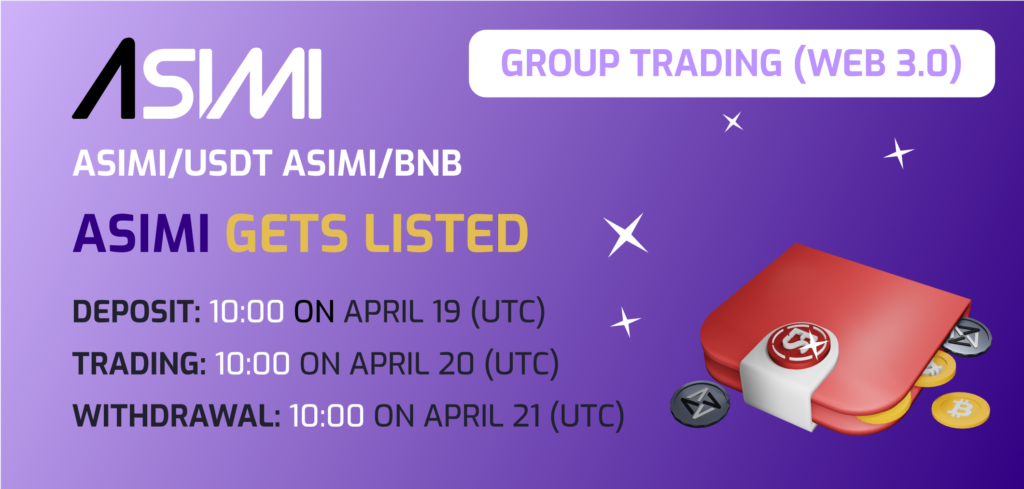 We are honored to announce that Asimi is now listed on XT Exchange. Asimi pairs Asimi/BNB, Asimi/USDT are trading, and Asimi/USD pair trading will be opened in Main Zone (Web 3.0)
Already the trading volume of Asimi has multiplied 4 fold with most of that activity on the XT Exchange. This is very exciting for all of our members as well as everyone who holds and trades Asimi.
XT Exchange is the world's first socialized Digital Asset Trading Platform. Established in Seychelles in 2018, and headquartered in Singapore, XT.COM has operation centers in Tokyo, Singapore, and Seoul in an effort to globalize operations.
The platform has a top-level domain www.xt.com, and currently has 3 million registered users, over 300,000 monthly active users, and over 30 million users in the ecosystem.
XT.COM is a centralized crypto exchange like Coinbase, Kraken, and Gemini. The XT.COM Exchanges designed purposely to be a platform crypto enthusiasts, investors, and traders can buy and sell their crypto holdings conveniently.
You can trade on the go with XT.COM 's mobile crypto trading app:
https://www.xt.com/app

Or trade at:
https://www.xt.com/

Trading Pairs:
ASIMI/USDT: ASIMI to USDT
ASIMI//BNB: ASIMI to BNB
Asimi is part of the Hashing Ad Space ecosystem, where you can receive crypto minting earnings daily, paid directly to your own crypto wallet, view ads to receive free crypto, play games, use apps, and complete online surveys.
Check out the Advertising / Earning website:
This is only the beginning of big things to come for Asimi! Come be a part of this with us! Advertise! Earn for free! Trade Asimi!
Hashing Ad Space set out to build an ecosystem that offered simple, free income generation for members. All of this surrounds one of the most valuable products Online Advertising.
Hashing Ad Space has grown rapidly reaching the top 8,000 most visited websites worldwide, approaching 1 Billion ad views delivered, millions of tokens earned, and is on a mission to help 1,000,000 members from around the globe.
As this was accomplished, they have done so while simultaneously providing effective advertising. Businesses use Hashing Ad Space advertising to promote their offers, products, and websites to the pre-build audience and at the same time offer reliable daily income for the members by completing simple tasks.
Read more Hashing Ad Space articles here