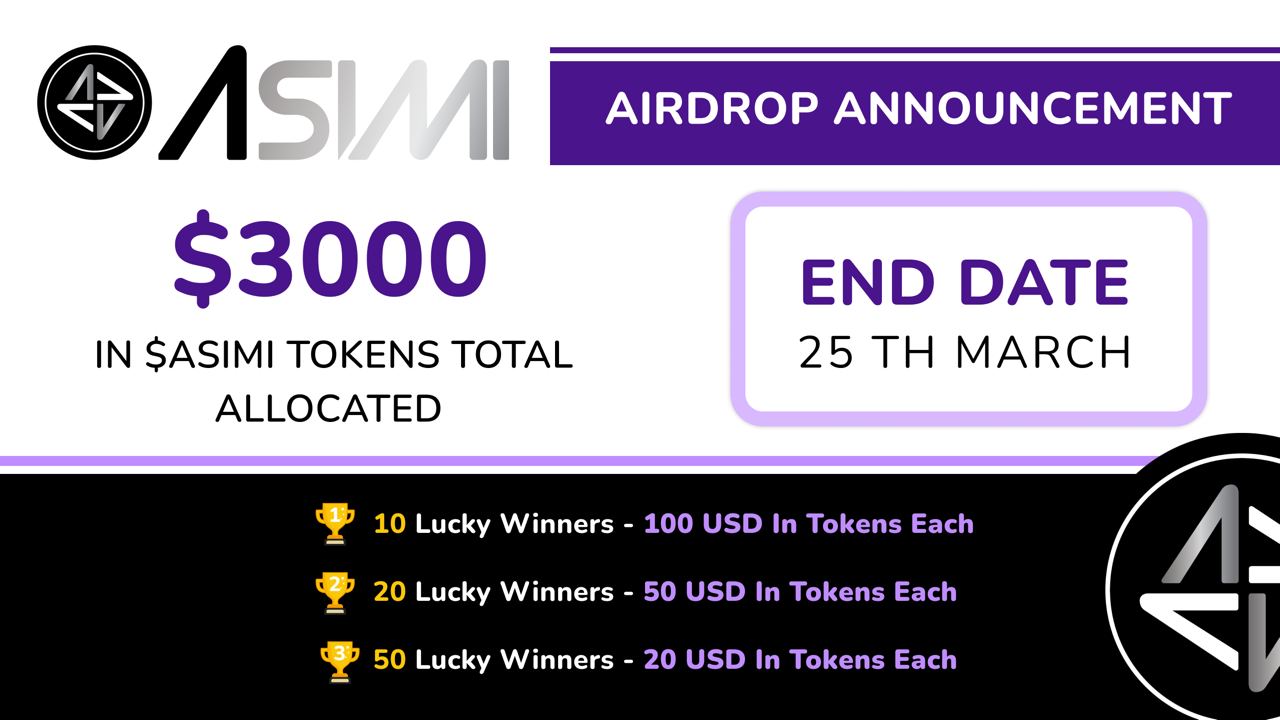 Asimi is world's #1 Ad Minting platform. Today Asimi helps thousands of people increase their online revenue every day. Designed for mass adoption, Asimi is issued to people that complete various tasks. This has helped Asimi grow into the hands of hundreds of thousands of users.
🚀 Airdrop: ASIMI
💰 Value: $3,000 worth $ASIMI
📊 Exchange: HitBTC, P2PB2B,
📅 End Date: 25th March 2022
🏦 Distribution Date: in 3 days after ends
📖 Step-by-Step Guide:
Follow ASIMI on Twitter: http://twitter.com/asimitoken/
Subscribe ASIMI on YouTube: https://www.youtube.com/c/AsimiToken
Join ASIMI community on Telegram: http://t.me/HashingAdSpace
Join ASIMI on Facebook: http://facebook.com/asimi.io.token
Follow ASIMI on Instagram: http://instagram.com/asimitoken/
Complete all the tasks, then fill up the form using below link & submit your Waves wallet address: https://forms.gle/KvpFw8i8TUqv4FKn6

🔹 You will get 2 entry for each referrals

📢 Note:
🥇 10 lucky winners - 100 USD in tokens each
🥈 20 lucky winners - 50 USD in tokens each
🥉 50 lucky winners - 20 USD in tokens each
Disclaimer: Please do your own research before joining to any airdrops project, also airdrop is 100% free. Don't send any fee or penny for receiving airdrop tokens. Just join airdrop for free.
Read more Hashing Ad Space articles here